Limited quantity available, 60% off sale ends soon.
FREE worldwide tracked shipping

over $39

. USA Based Company.
30-day money-back guaranteed
24/7 support:

 

[email protected]
The spinning moon & star ring is a great, inexpensive yet beautiful way to alleviate bad habits such as nail biting and skin picking. An easy way to relieve your anxiety when you play with the ring and rotate the star and moon around.

Can put a little oil to help the ring to spin better!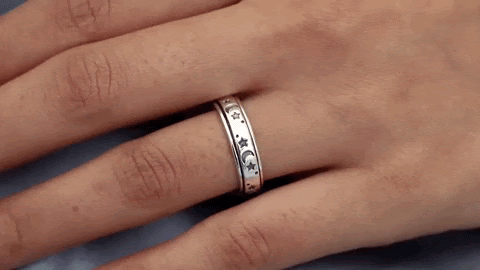 Specifications:
All materials are ethically sourced
Available in sizes #5 to #12 refer to the sizing chart.
Comes in stunning silver.
The width of the ring is 0.6cm or about 0.24 inches.
The ring can spin!
FAQs:
Q: What is the ring made out of?
A:  The ring is made from high quality silver plated titanium steel.

Q: What size is the ring?
A: Please refer to the sizing chart.

Q: Can this be worn at all times?
A: Yes! You'll need to take proper precautions. To make your jewelry last longer, we suggest the following:
- Wash your hands before and after wearing because the oils on your body can tarnish the jewelry.
- Don't store your jewelry on top of each other or in a pile to prevent unnecessary friction.
- Avoid perfumes and lotion in the area of the jewelry.
- Take it off before any exposure to water.