Limited quantity available, 60% off sale ends soon.
FREE worldwide tracked shipping

over $39

. USA Based Company.
30-day money-back guaranteed
24/7 support:

 

Service@chrider.com
The spinning moon & star ring is a great, inexpensive yet beautiful way to alleviate bad habits such as nail biting and skin picking. An easy way to relieve your anxiety when you play with the ring and rotate the star and moon around.

Can put a little oil to help the ring to spin better!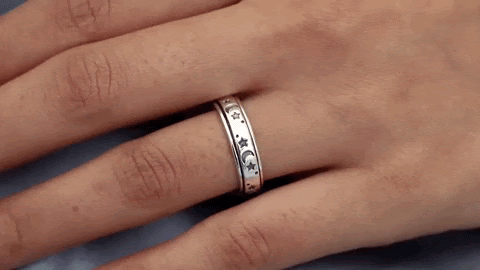 Specifications:
All materials are ethically sourced
Available in sizes #5 to #12 refer to the sizing chart.
Comes in stunning silver.
The width of the ring is 0.6cm or about 0.24 inches.
The ring can spin!
FAQs:
Q: What is the ring made out of?
A:  The ring is made from high quality silver plated titanium steel.

Q: What size is the ring?
A: Please refer to the sizing chart.

Q: Can this be worn at all times?
A: Yes! You'll need to take proper precautions. To make your jewelry last longer, we suggest the following:
- Wash your hands before and after wearing because the oils on your body can tarnish the jewelry.
- Don't store your jewelry on top of each other or in a pile to prevent unnecessary friction.
- Avoid perfumes and lotion in the area of the jewelry.
- Take it off before any exposure to water.
SHIPPING
1) Order Processing Time
For normal items: We generally process to ship these orders within 1-3 business days. Orders placed during weekends or on holidays will process on the next consecutive business day. If the item you ordered is out of stock, we will notify you of the best available option through email.
For handmade items: In order to ensure the quality of each handmade product and the freshness of the materials, we reserve up to 2 weeks for every artisan. Please expect up to two weeks of production and processing time before shipping. If the time frame is likely to take more than two weeks, we will notify you through email.
2) Courier Shipping Time
We provide direct air mail service worldwide from Standard to Express shipping. Once your order is processed and shipped, you will receive the tracking code and instructions from our email Service@chrider.com.
*Please note: In most cases, the package will be delivered within the estimated time of arrival. However, the actual delivery date may be affected by flight arrangements, weather conditions, and other external factors. Please refer to the tracking information for the most accurate delivery date.
RETURN
1) Please check if the product is damaged after receiving the package
2) In the case that the product packaging is not damaged, we can provide a fast return and refund service. For specifically related matters, please contact us at Service@chrider.com


How long will I receive the products?
The current average shipping timeframes are:
Standard Shipping (12-15 business days)
Express Shipping (8-12 business days)
VIP Shipping (5-8 business days)
Once your order is processed and shipped, you will receive the tracking code and instructions to track your orders by email. We will keep on track with the delivery and update you timely.